Drum Books by Alain Rieder
Groove-oriented drumming method
serious, innovative, fun and progressive.
from the most basic to the most advanced rhythmic concepts.
allows you to develop your own creativity.
For drummers of most levels:
advanced
intermediate
beginner (with the help of a teacher)
Printed version : 35 € + shipping
eBook Version : $14.99
140 pages.
Sixty-eight 16-bar groove exercises.
147 examples with mp3 audio files to download.
Dozens of cymbal ostinatos.
Thousands of possible rhythmic combinations.
The reviews published in the international trade press are unanimously positive. This one was published in Modern Drummer Magazine - USA - in March 2019: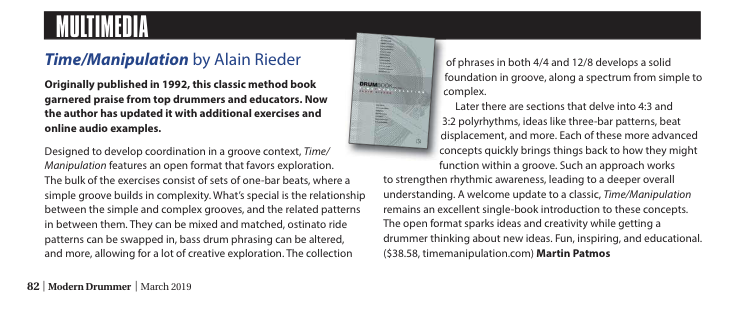 Drum Books | Time Manipulation | Alain Rieder