Drum Book by Alain Rieder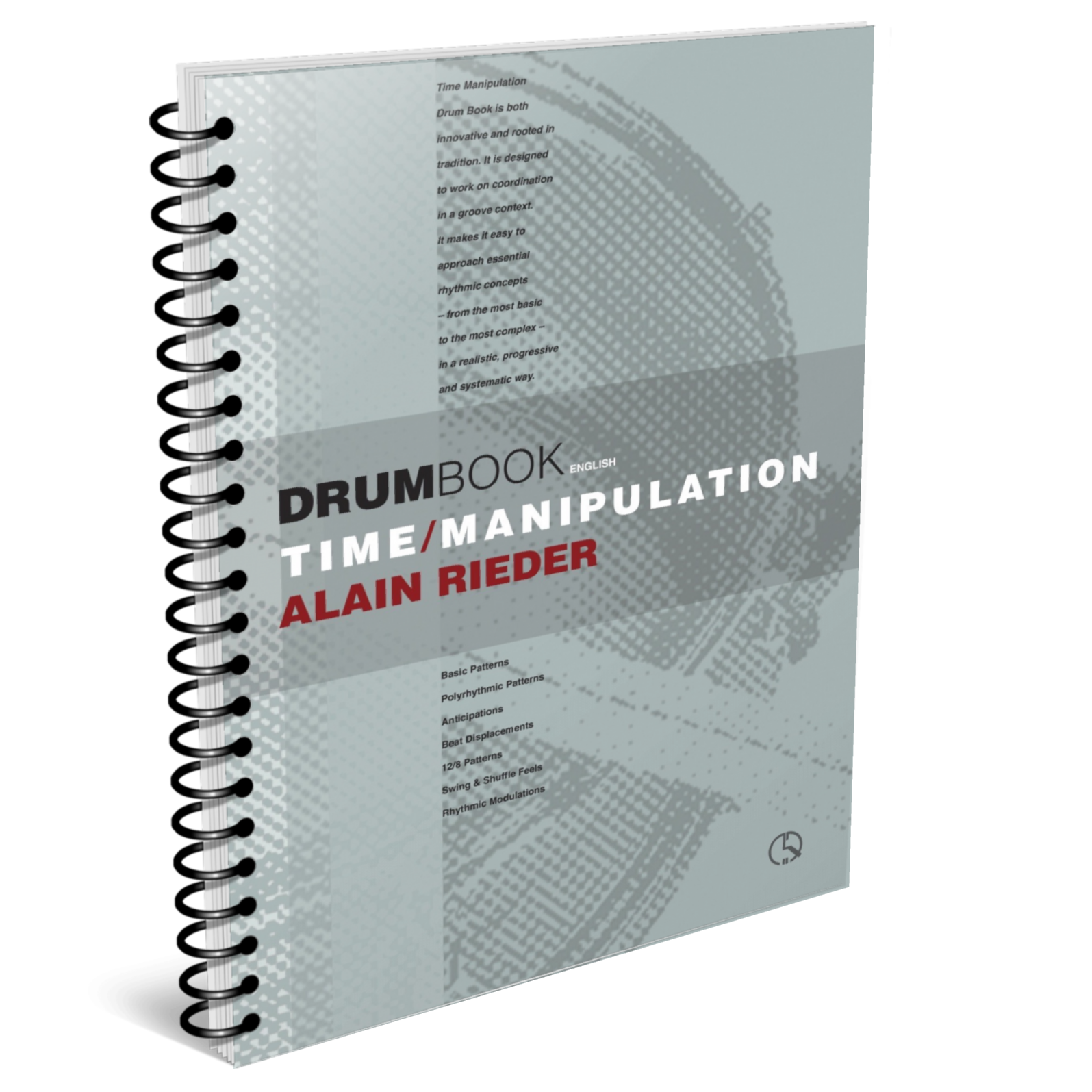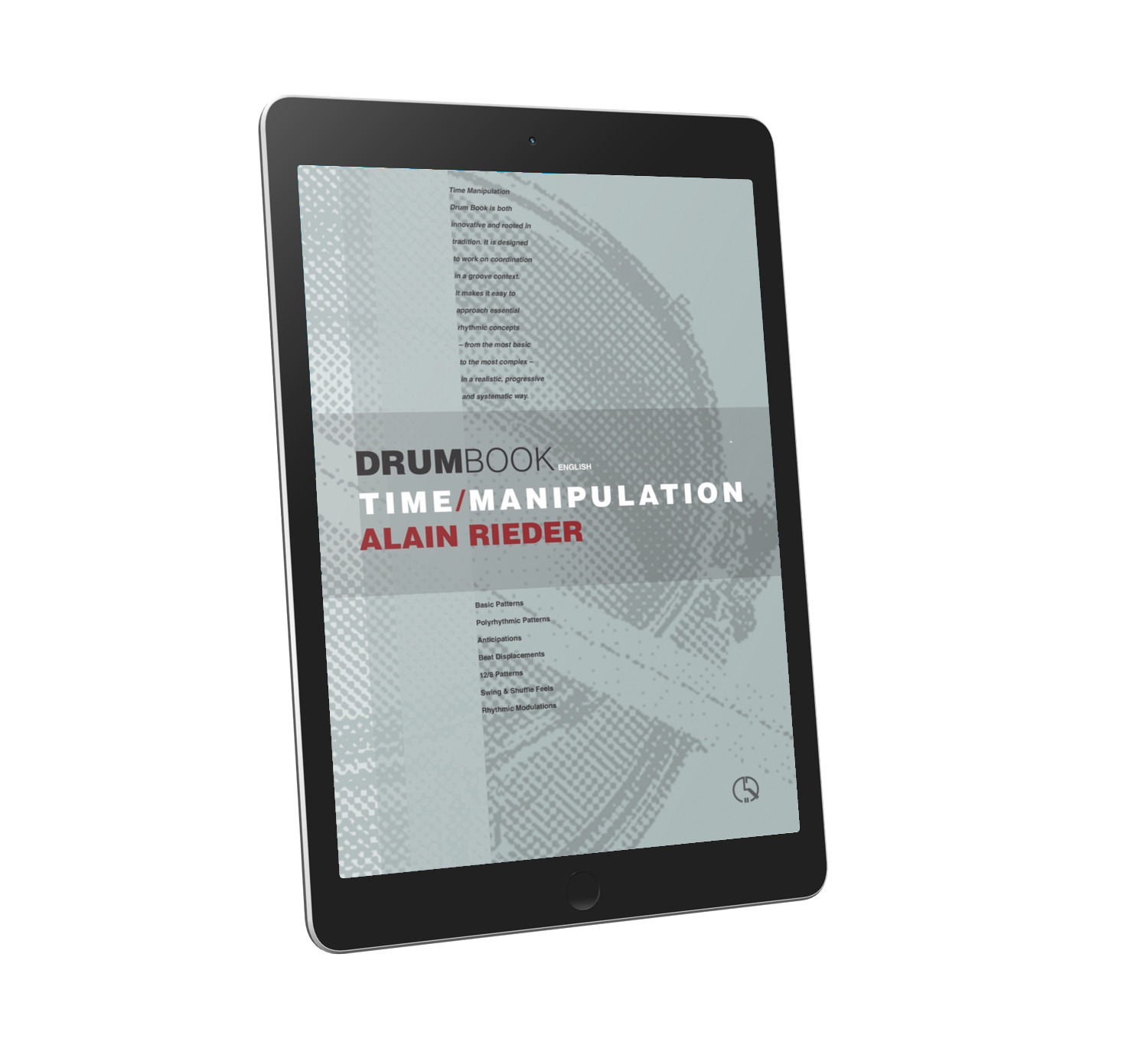 Groove-oriented drum method
serious, innovative, fun and progressive.
from the most basic to the most advanced rhythmic concepts.
allows you to develop your own creativity.
For drummers of most levels
advanced
intermediate
beginner (with the help of a teacher)
The magic drum book to help you work on your coordination in a groove context.
Basic and polyrhythmic patterns in 4/4 and 12/8, rhythmic displacements, metric modulation, and much more!
Print & ebook versions available Worldwide
140 pages.
Sixty-eight 16-bar groove exercises.
147 examples with mp3 audio files to download.
Dozens of cymbal ostinatos.
Thousands of possible rhythmic combinations.
Review in Modern Drummer, March 2019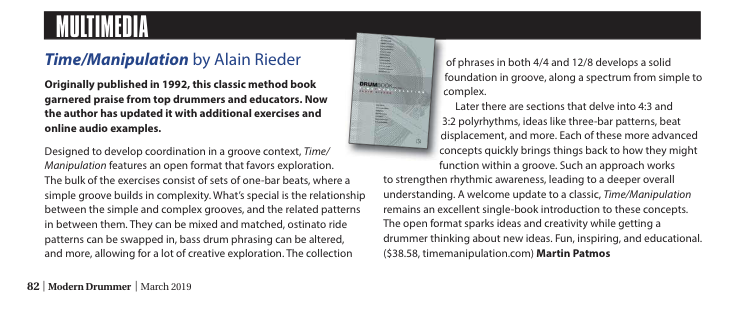 What they say about it!
It is a very well thought-out book. I really liked the examples of beats you used. It seems to give an immediate result without sounding technically overbearing. Great work! Joey Baron
Alain Rieder has carefully assembled and designed this collection of beats (with various accompanying ostinatos), and it's suitable for drummers of most every level. As an adjunct to a musical course of study, I can recommend it. Peter Erskine
I find that Alain's book "Time Manipulation" can help in many different areas such as reading, coordinated independence and phrasing. Used as a tool in a complete organized practice routine, I recommend it. Dave Weckl
When I immersed myself in the pages written by Alain Rieder, I quickly realized that the book was worthy of the greatest interest. Alain Gozzo, Batteur Magazine
Fun, inspiring, and educational Modern Drummer Magazine (USA), 2019
The material is sophisticated, precise, highly informative and very musical. Drums & Percussion Magazine (D), 2019
These practice-oriented contents were already up-to-date in 1992, and they have remained so to this day. It is very good that this classic textbook is now being published in an extended new edition.Sticks Magazine (D), 2018
New books in project
Melodic Possibilities : A book in two volumes, to help develop advanced rhythmic ideas in the most musical way. In 12/8, 3/2, 6/8, 3/4, 4/4, 5/8 and 7/8.

Time Manipulation Vol 2 will present displaced polyrhythmic patterns, 3/4 patterns, an inovative approach to 5/8 patterns and probably 7/8 as well. Many ideas that I've had over the years and that didn't make it in the first volume of Time Manipulation.

Time Initiation is my book for beginners or drummers who need to review the basics in a good way. It already exists and I use it with my own students, but it still lacks most of the instructions that I give during lessons. I plan to make it available to the public, after rewriting it.
Drum Books | Time Manipulation | Alain Rieder