Drum Books by Alain Rieder
Printed & ebook versions both available.
This drum book is both innovative and rooted in tradition.
It is designed to work on coordination in a groove context.
It makes it easy to approach essential rhythmic concepts – from the most basic to the most complex – in a realistic, progressive and systematic way.
Aimed at drummers of most levels, the book has an open structure that lets you develop your own ideas and creativity.
Time Manipulation was first published in 1992, gathering positive reviews from well-established drummers and reviewers. This is a new enhanced edition, first published in 2018. It is available in English & French, and soon in German as well.
Fun, inspiring, and educational Modern Drummer Magazine (USA), 2019
The material is sophisticated, precise, highly informative and very musical Drums & Percussion Magazine (D), 2019
In brief
The book has a total of 140 pages.
There are sixty-eight 16-bar groove exercises that are the core elements of the book.
There are dozens of cymbal ostinatos (repetitive patterns) to apply to the exercises, and this represents thousands of possibilities for rhythmic combinations.
There are 147 examples to demonstrate all the rhythmic concepts.
There are 147 mp3 audio files to download, to allow you to hear all the examples.
Price in Euros on www.lulu.com
: 35 € + shipping
Audio Examples
As mentioned before, there are 147 mp3 files to download, which demonstrate the examples in the book.
You will find the download link inside the book.
Listen to one of the examples.
Critique
Published in Modern Drummer Magazine - USA - Mars 2019 :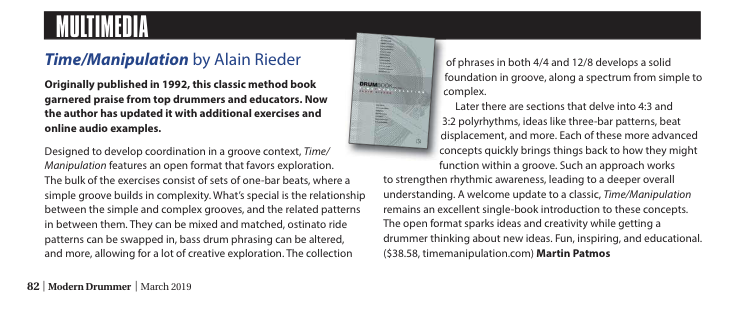 15% Off
Use code LULU15 | Expires April 9
In the stores: Switzerland, Canada fr, Nederland, Spain, Italy.
(from Germany, connect to the Swiss store to get the discount)
Buy the printed version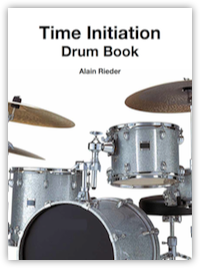 Time Initiation is aimed at beginners, or at drummers who want to review the basics and go beyond their current level.
It is a clear and concise structure to learn basic coordination and groove in 4/4 and 12/8, basic breaks and fills and much more!
There is a full theory section at the end of the book.
It is bilingual (English & French).

NB : This book is reserved for my own students for the moment, so come study with me!
Drum Books | Time Manipulation | Alain Rieder